Modulara Partition Easywall: advantages
great exploitation of the rooms
absolute hygiene
simplification of the cleaning of the places
no maintenance
quick installation
rapid replacement of the partition
Structure of the modular partition aluminum version
The "ALA System" partitions are made of 3.5cm-thick sandwich -type panels. They comprise two hot-sprayed aluminium sheets 1.2 mm thick each with expanded polyurethane in-between – with over 50% of closed cells, self-extinguishing – injected inside. No FC is contained in keeping with recent international norms. The lower part of the partition is equipped with adjustable black anodised aluminium feet 15 cm. high with an ABS base and cover stud. The upper part of the partition is fixed to a black aluminium U-shaped section, which is in turn fixed to the existing wall by means of vanishing stainless steel brackets.
Click on this link to view the Easywall brochure
INSTALLATION
The installation is very simple and can be practiced by non-experts. Standard equipment also includes the working drawing and assembly instructions. Eachpanel is identified and marked in such a way that will facilitate the identificationin the drawings. The operator then knows exactly where each panel must belocated and what should be the assembly sequence. For many years we adoptthis system has proved successful even for large deliveries abroad such as Nigeria.
Below is a video that shows the delivery of the walls in the yard.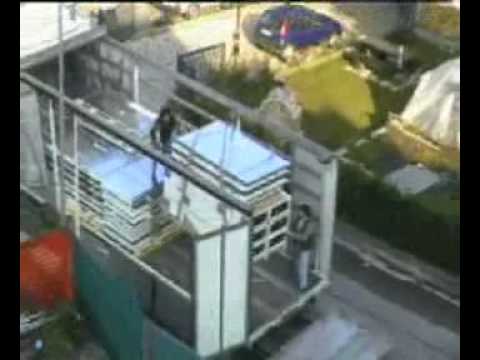 MAINTENANCE
The daily cleaning of walls, it should be done using liquid neutral detergents, non-abrasive cloths and sponges together with non-abrasive.
Upon delivery of the sales invoice shall be attached to requirements formaintenanceeone
DISPOSAL
At the end of its useful life, the products should no longer be used to landfills. Ofthe various types of items that are delivered, you should pay attention only for the structure, where the presence of polyurethane sheet suggests to agree the arrangements for disposal with the staff on receipt of these items.