The advantages
quick installation : one bathroom can be fitted in one day
fixed and competitive costs
minimum inconvenience activities
one single supplier
thorough access for inspection to the electrical system and plumbing
lightweight construction
total floor and wall impermeability is guaranteed
sound and thermal insulation is above the standards of brickwork bathrooms
highly reliable industrial product
installation possible at any moment
possibility to move the bathroom to a different place in the future
installation also possible in rooms not provided with drain-pipes
possibility to renew the bathroom in the future
The bathroom pod has a self-supporting structure. It consists of the floor, the ceiling and the walls made of sectional, insulated metal panels of the "sandwich" type, which are strongly assembled.
The panels are made of two external 6/10 mm. thick hot-formed galvanised steel sheets (UNI 5753) (with a zinc-coating of 200 g./sqm.) and of a core of self-extinguishable injected polyurethane foam (class B3, DIN 4102), density 40-43 kg./cm., with more than 50% of closed cells (ASTM-D-2856).
The main technical characteristics of these panels are:
The total weight of the cell, complete with health, accessories, door andfloor covering, is averaging about 120 kg / mt.q. Finishing walls with "Vinyl"scratch and about 200 Kg / mt.q. finished with ceramic tile walls.
Equipment
The bathrooms ALA Rational Systems are supplied complete with:
Floor, walls, ceiling
Accessories
Hydro plant – electricity
Bathrooms Sanitary
The inner walls and floor can be either ceramic tile or marble, Venetianplaster, marble, vinyl, scratch-resistant, non-slip rubber.
Installation
The cells are transported disassembled bathroom with panels placed on pallets and assembled on site by our personnel. Each panel already hasall the necessary arrangements so that the next assembly is quick andeasy.
The union between the panels is done with a latching mechanism and aneccentric joint M / F on the edges. The assembly operation between the parties is carried out within hours.
Accesible Duct
Installation is made between the cell wall and the wall, a technical working space to allow the connection of the discharge and ensure the inspection.
Here a video that shows how to install bathroom pods.
Here a video that shows how the delivery of the panels on construction sites.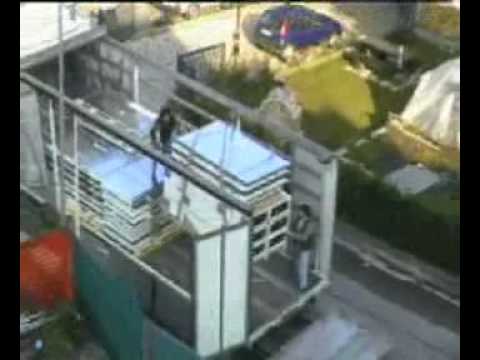 Maintenance
The daily cleaning of the walls and floor, it should be done using liquid detergents are neutral, non-abrasive cloths and sponges together withnon-abrasive. The use of brushes that can damage the PVC film in the connection between wall and floor is recommended.
At least at six monthly intervals, you should verify the properfunctioning of the vacuum and clean the impeller and all parties who request it with a brush dipped in water and mild detergent.
Remember also that the maximum temperature to 'interior of the premises must not exceed 40 ° C to avoid damaging the equipment.The maintenance of the flush box and faucets is feasible by non-expert, however we recommend the plumber.
Disposal
At the end of useful life, the products should no longer be used to landfills. Of the various types of articles that are conferred – sanitaryfittings, accessories etc. – you need to pay attention only to the structural floor – walls – ceiling, where the presence of polyurethanesheet suggests to agree the arrangements for disposal with the staff on receipt of these items.